Auctions
After Action Report: Sotheby's Jubilee + Modern & Contemporary Sales
Combined sales make $181 million from Bacon, Monet, Warhol, Richter and a range of women artists young and old.
Sotheby's tried to add some excitement to the perennially cramped June auction season in London by creating two sales that could combine all collecting categories. One of the side benefits of the structure was to mix high-value works with works by younger artists where the bidding could be expected to far out-run estimates. Together, the two sales made £149.2 million ($181.8 million). There were 78 lots offered and 62 sold for a 79% sell-through rate. Of the 62 lots, 18 made prices above the estimates, or 29%; 32 made prices within the estimates, or 52%; and 12 were sold at compromise prices below the estimates, or 19%. The average lot value was £2.9 million. Lots that saw dynamic bidding were spread evenly throughout the price range with strong price points at £5-8m premium, £2.2-2.8m premium, £1.4m premium, and £300,000 premium.
Here are some of the more interesting results:
Francis Bacon

was born in Ireland but lived and worked in London. That makes him British. It also helps that Sotheby's had a portrait of Lucian Freud from 1964. Originally one of three related works, a precursor to the $140 million Lucian Freud portrait study that remains the record price for a Bacon, the artist had separated the works himself. One of the three is now in a museum. That kills any fantasy of reuniting the group as was done with the record-price triptych. This work had a £35 million whisper number and an irrevocable bid. But there was at least one other bidder. The final hammer was £37.5m which works out to £43.3m with fees. That's good enough to make the work the fifth highest price paid at auction for a Bacon at $52.8 million. Sotheby's says the work is the highest price paid for a single Bacon canvas but that's only in British pounds. Eight years ago, a £42 million painting of George Dryer was worth $70 million in dollars.
For example,

Dame Barbara Hepworth

was represented twice in these sales

. One painted wood work was similar to the one that tied her previous record price the night before.

Elegy

from 1945 performed well but within its estimates and at a price level less than half of the previous night's work. But

Mukutu

, a later edition bronze work, outran the estimates to make a price £1.66 million, that was twice what was expected.
Bridget Riley

, too, had more than one work in today's sales.

Lilac Between

from 2008 sold for the £1.2 million low estimate on only two bids.

Tinct

from 1972 couldn't make it to the £2.4 million low estimate but still sold.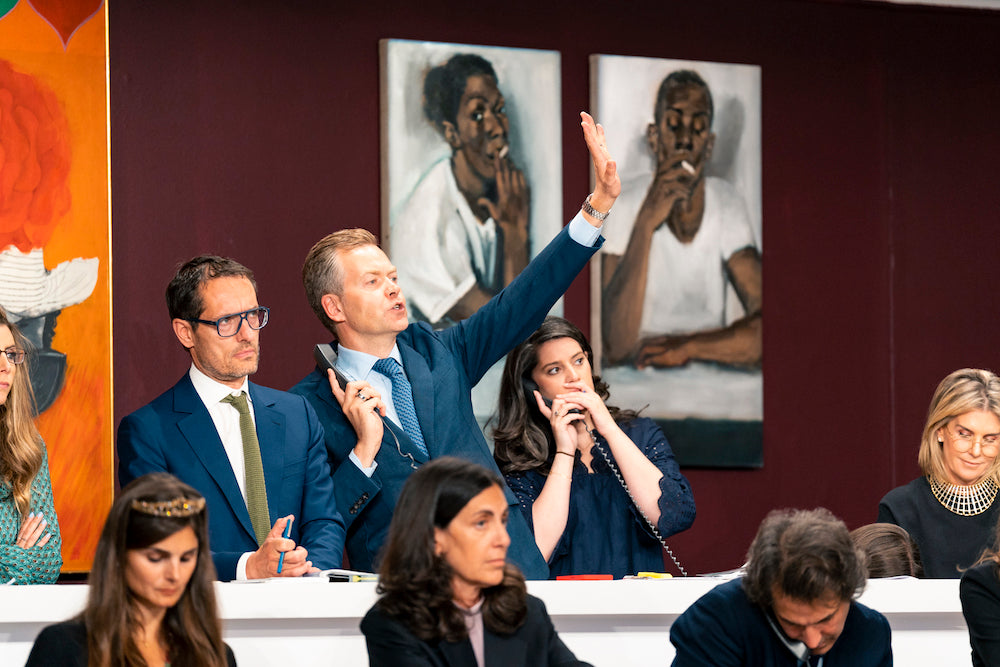 Women artists weren't the only ones with interesting pairings.

Gerhard Richter

would seem to be an artist whose market is well estimated. But

Study for Clouds

from 1970 was estimated at £6 million and bid to £9.5 million which was more than 50% above the low estimate.

The final selling price with fees was £11.1 million which is equivalent to $13.6 million.

That's that highest price paid for a work with clouds in the title but the Macklowe collection did have a $30 million seascape that heavily featured clouds and may have played a role in the upward revision. Richter's abstracts would also seem to be a thoroughly understood market. But a smaller work from 1987 was offered at £1.2 million even though it was previously acquired in 2007 for a hammer price more than 30% higher than the estimate. Perhaps Sotheby's knew that to get any price advance for 15 years holding they would need to give the work a very attractive estimate. The final price with fees worked out to be $2.4 million for domestic-sized work, which hardly gave the seller any profit.
Frank Auerbach

had a

Head of Gerda Boehm

from 1965 that followed a similar but shorter trajectory. Originally bought by David Bowie at auction in 1995 for $87,000, the heavily impastoed painting was sold in 2016 after the rockstar's death. It set the record price for Auerbach then when someone paid £3.7 million ($4.7 million) for the painting that isn't much larger than a sheet of paper. Today it sold for £4.15 million or just above $5 million. Making it, again, Auerbach's top public price.
Lynette Yiadom-Boakye'

s work seemed to have been losing some of its market momentum until a painting made her second highest price in May. Now "Nearer than Kith, Further from Kind" was bid to £1.22 million with buyer's premium, her fourth highest price which was paid for a 2018 work being sold by a collector who acquired it directly from Jack Shainman gallery.
Flora Yukhnovich

has previously sold half a dozen works at seven-figure prices that hardly seem sustainable. Working with a gallery well-known for controlling its artists' markets, one would only expect the supply of works to dry up or the demand to be rechanneled elsewhere. That hasn't happened yet for Yukhnovich as

Boucher's Flesh

from 2017 made £2.3m with fees in the sale.
Other surprise hits in the sale were the Swedish literary figure

August Strindberg

's

Wave V

from 1901 that achieved a record of £6.7 million or $8.2 million.
Camille Pissarro

's

Vue de Bazincourt, inondation soleil couchant

from 1893 was previously

bought 20 years ago at Christie's for $538,532

. Today it sold for £2.5 million or $3.1 million, a six-fold increase. This kind of performance is what people point to when they say art can be an hedge against inflation.
A similar story took place with

Claude Monet

's view of

Vétheuil

which made $14.3 million today. The buyer had acquired the work also 20 years earlier for $7.6 million which was not quite the same rate of appreciation as the Pissarro or even the gain made by the previous owner who had paid $3 million 14 years before.
Some other works simply declined in value against comparables. An 80-inch

Warhol

fright wig painting was sold for £12.7 million with fees

which wasn't great since the hammer estimate was £12 million. The $15.7 million equivalent was $3 million below the Macklowe's version of the same size and subject paid last month and almost $9 million off the price paid for a white one in 2016.
There were also anomalies that might mask the actual state of an artist's market. For example, a new record price was set for Georg Baselitz in May. That could be the reason the consignor of Immer bereit fur die Vergangenheit chose now to sell the painting. It had first been auctioned in 2017 for $547,500. In October of 2020, it doubled in price in a Hong Kong sale where the buyer paid $1.115 million. But in the London sale, it came back halfway between the prices to $767,832.