Artist Profile
FUTURES: Katherine Bernhardt's Prices Go Global
Her auction sales have doubled every year for the last four years—now she's represented worldwide by David Zwirner.
If you want to see the power of a global gallery to establish demand and build stronger prices, even for an artist with a twenty-year track record, look no further than Katherine Bernhardt. Her work hit a $400,000 high in Hong Kong in late May as sales have built sharply in the past year. Bernhardt was picked up by David Zwirner gallery in a co-representation deal with Canada Gallery that was announced last July. Zwirner launched with a show, "Why is a mushroom growing in my shower?" that opened this June in London.
Bernhardt paints in the sweet spot between cartoon characters as subject matter—like KAWS, Javier Calleja and Edward Plans (in Bernhardt's case, the market is wild for the Pink Panther right now)—and the faux-naive style of painters like Jordy Kerwick and Robert Nava. Whether the sharp rise in sales is a function of the new taste for these types of works, especially among Asian collectors, or Zwirner's global footprint would be hard to determine with any rigor.
The essential fact remains Bernhardt's auction prices have shifted upward dramatically. Since the announcement that Zwirner would be her global outlet, a dozen works have sold for prices at or above her pre-Zwirner highs. There has also been an uptick in auction sales volume for works at her previous, lower price points. For example, during the 12 months preceding the Zwirner announcement, Bernhardt had $1.64 million in auction sales. In the same span of time following the announcement, that total was $3.1 million. Before Zwirner, the average price at auction was $49,000; after, it rose to $124,000.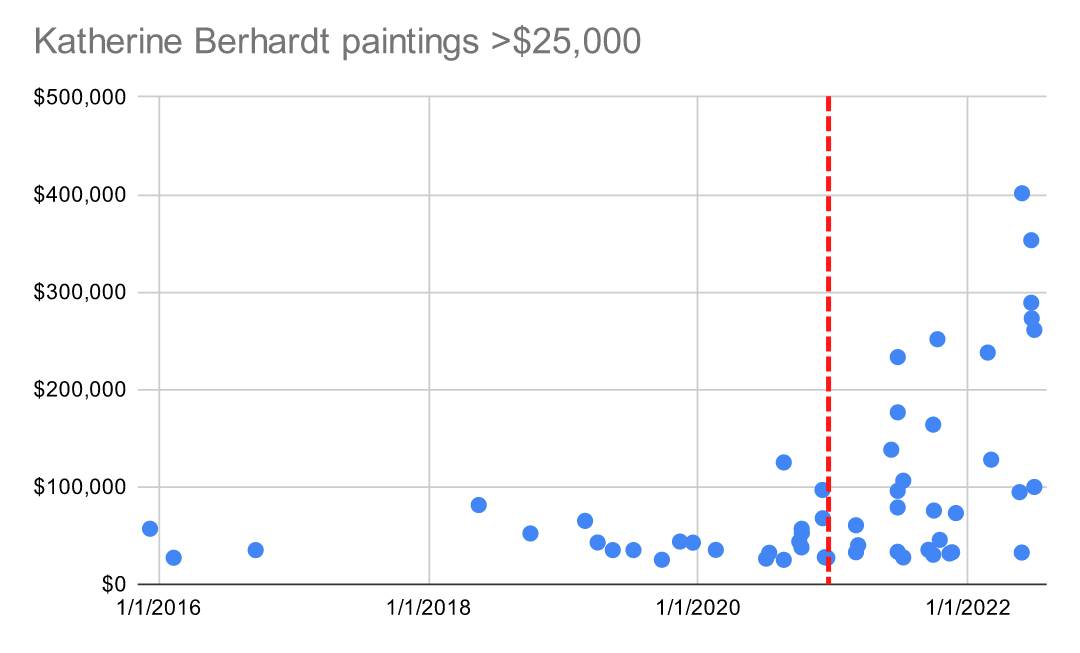 Katherine Bernhardt auction sales over $25,000 (before and after Zwirner representation announcement)
Bernhardt's auction sales go back to 2008. But they didn't reach any significant level until 2015 when $140,764 in Bernhardt's art sold. There was a dip in 2016 and 2017, but by 2018 the annual total had recovered to $148,298. After that, Bernhardt's auction volume continued to rise indicating the kind of demand that surely attracted Zwirner's interest. The next year, sales more than doubled to $389,222. In 2020, they doubled another time to $770,016 even though much of the auction market was in suspended animation that year. By 2021, the total had reached $1,828,054. So far this year, and we're only half way through the sales, Bernhardt's art has attracted $2,189,111 in sales.
Can her dollar volume at auction keep doubling each year? That doesn't seem likely but that has been the case for the last four years. Sales volume has risen but, more to the point, value has risen even more dramatically. In 2020, the average price of an auctioned lot was $33,479. This year, that number is just shy of $200,000—and we're still counting.
Bernhardt and her art are hardly newcomers. She graduated from the School of Visual Arts in 2000 but already had three gallery shows by 2001. Her distinctive use of fashion and fast food imagery caught the eye of Jerry Saltz who declared her "a natural, even if I can't say exactly what kind of natural that is."
Bernhardt may be a natural but not everything she paints excites the market. Ten of her top 15 auction prices feature cartoon or pop culture figures like the Pink Panther, Garfield the Cat and E.T., the extraterrestrial. On the other end of the spectrum, some of her glamor-puss paintings of models from early in her career have disappointed flippers who tried to cash in on her new market momentum. "Porsche 911" Midnight Blue from 2004 had been owned by gadfly Kenny Schachter. It made $42,670 in his first "The Hoarder" sale held in December of 2019 at Sotheby's in London. The person who thought they spotted an opportunity sold again in Hong Kong in January of 2021 for a loss at $29,257.
Someone tried an even faster flip with Kate Moss (Roberto Cavalli) from 2006 at Bonhams in November of 2021 for $31,562. They then tried to sell it at Bonhams in Hong Kong the next May. Unfortunately, the new buyer was only willing to pay another $230 dollars above the previous price.
The market is notorious for punishing impudence. But the trouble here may be more subject matter than market ethics. The early fashion paintings just don't seem to excite the market the way the Pink Panther does. Kate Moss Black Leather Straps, also from 2006, was bought in October of 2020 for $20,160. In March of this year, it was bought in.
Just as the seller's hopes were crashing, others were getting ready to consign to the May and June sales in Hong Kong and London that set Bernhardt's top five prices in a five-week run of the table.
In May, an untitled Pink Panther work made the record $401,297. This sale was 60% higher than Bernhardt's past high price at auction. These kinds of sales can be flukes. So a market isn't really moving until there are further sales within the band in between the previous high and the new high. As luck would have it, an eight-day sales cycle in London followed the opening of Bernhardt's new work—featuring high-heeled Crocs and mushrooms alongside her signature cigarettes, Garfields, ETs and Pink Panthers—at Zwirner in London. In that period, four works filled in the gap between the October 2021 record price and the May 2022 record. That's strong confirmation of a new price level.
Of course, the big unknown is how the coming recalibration to a new macroeconomic environment will effect the taste for Bernhardt's kind of loose, pop-culture themed work. So far, the indication is good.