Auctions
New York Auctions Reach $2.54 Billion Peak
Macklowe and Cox Collections help set a record for Fall sales totals
New York's November auctions totaled $2.54 billion across the sales of the Macklowe and Cox collections and the re-defined categories of Modern, 20th Century and now present-day art. This is the highest total for a November auction cycle in New York. The May sales are traditionally larger in dollar volume than the November sales. But this November cycle tops all but the May 2018 sales, when the Rockefeller collection was featured at Christie's, and the May 2015 sales at the peak of the art market.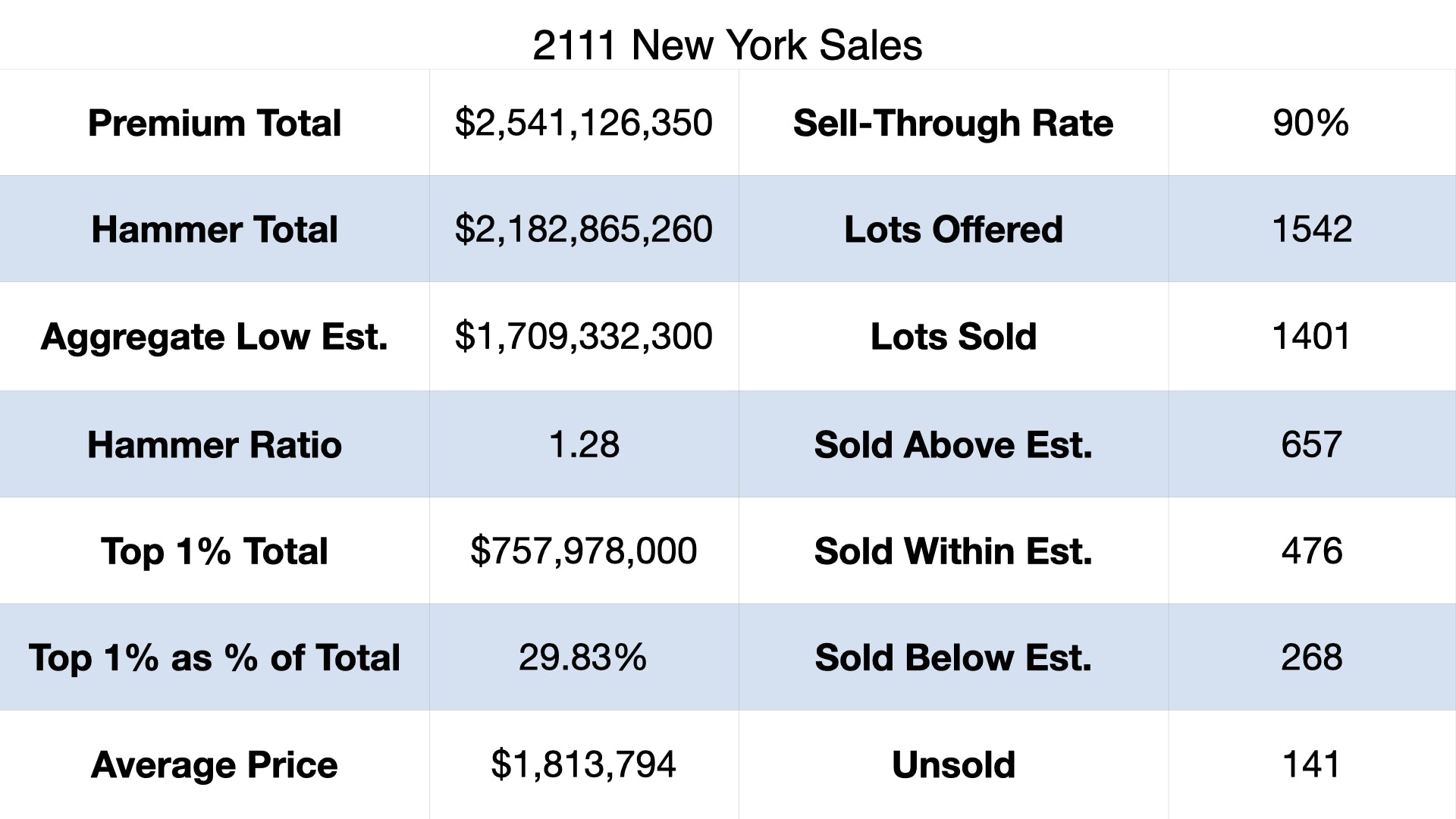 To fully appreciate the importance of this year's November sales, it is worth looking at some of the internal sales statistics. Across all sales, the sell-through rate was a remarkable 90%. Evening sales have become heavily managed events where lots at risk of being bought in are more likely to be withdrawn before the sale. It is no surprise, then, that the Evening sale sell-through rate was 96%; however, the Day sale success rate was a robust 89% which speaks most directly to the demand for art.
A further indicator of demand: 47% of the lots sold at auction in New York made prices above the estimate range. That generated an overall hammer ratio (the hammer prices divided by the aggregate low estimate) of 1.28. Hammer ratios measure broad market demand. That's a very strong number.
On the whole, the very top lots in the market were well estimated. A number of the most valuable works by artists like Warhol, Basquiat, Rothko, Twombly and Giacometti sold for prices near the estimate level which means the auction houses did their math correctly. The Day sales had a higher Hammer ratio of 1.34 which suggests bidders were searching for works that they believe are undervalued now or in the future.
The final important statistic from November's sales is the average price. Overall, the average price for a lot in the New York sales was a whopping $1.8 million. The Evening sales were significantly higher with an average price of $7.57 million. In contrast, the average price for a day sale lot was $263,326. That's a significant amount of money. It is both a sign of growing value of art; but it is also a measure of how high the bar to entry has become in the auction world.