Gallery
Visualizing the Visceral
Danica Lundy depicts unsentimental—and uncanny—memories of youth at Magenta Plains
Danica Lundy's paintings get under your skin–literally. Selectively rendering flesh, bone, and objects transparent, her large-scale scenes of adolescence angst are simultaneously fascinating and uncomfortable. A solo exhibition of Lundy's high-impact oil paintings will be on view through March 10th, 2022.
Born on a small island off the coast of Canada in 1991, Lundy received her BFA from Mount Allison University in Sackville, Canada and an MFA at the New York Academy of Art in 2017. Today, the artist works in Brooklyn, New York.
In addition to Lundy's solo exhibition "Cherry Log Road" at Super Dakota in Brussels in 2021, she has also had solo exhibitions at bleach cologne in Berlin and C+N Canepaneri Gallery in Milan. Lundy will have another solo exhibition at White Cube in London in July later this year.
"Three Hole Punch" at Magenta Plains fills the entire space (even dripping into the administrative areas). The paintings center around scenes of youth both real and imagined. But the raucous parties and school tableaux are not teen-movie glorifications of North American youth culture. Lundy uses distorted perspectives—and the aforementioned eerie transparency—to evoke the sheer discomfort of simply existing in a body that is coming-of-age. The maximalist compositions bring back visceral memories, bordering on the grotesque… in the best way possible.
"You know how in a dream, you can tell you're with someone specific," Lundy explains. "Their presence is undeniable, but they tend to look like someone totally different? I feel this way about the connection to my past when I look at the paintings."
That dreamlike quality is what makes Lundy's work such a strange and refreshing take on Surrealism. At a time when a wide range of artists seem to be drawing from the century-old movement, Lundy has invigorated the idea of the subconscious made visible with a wallop of adolescent angst.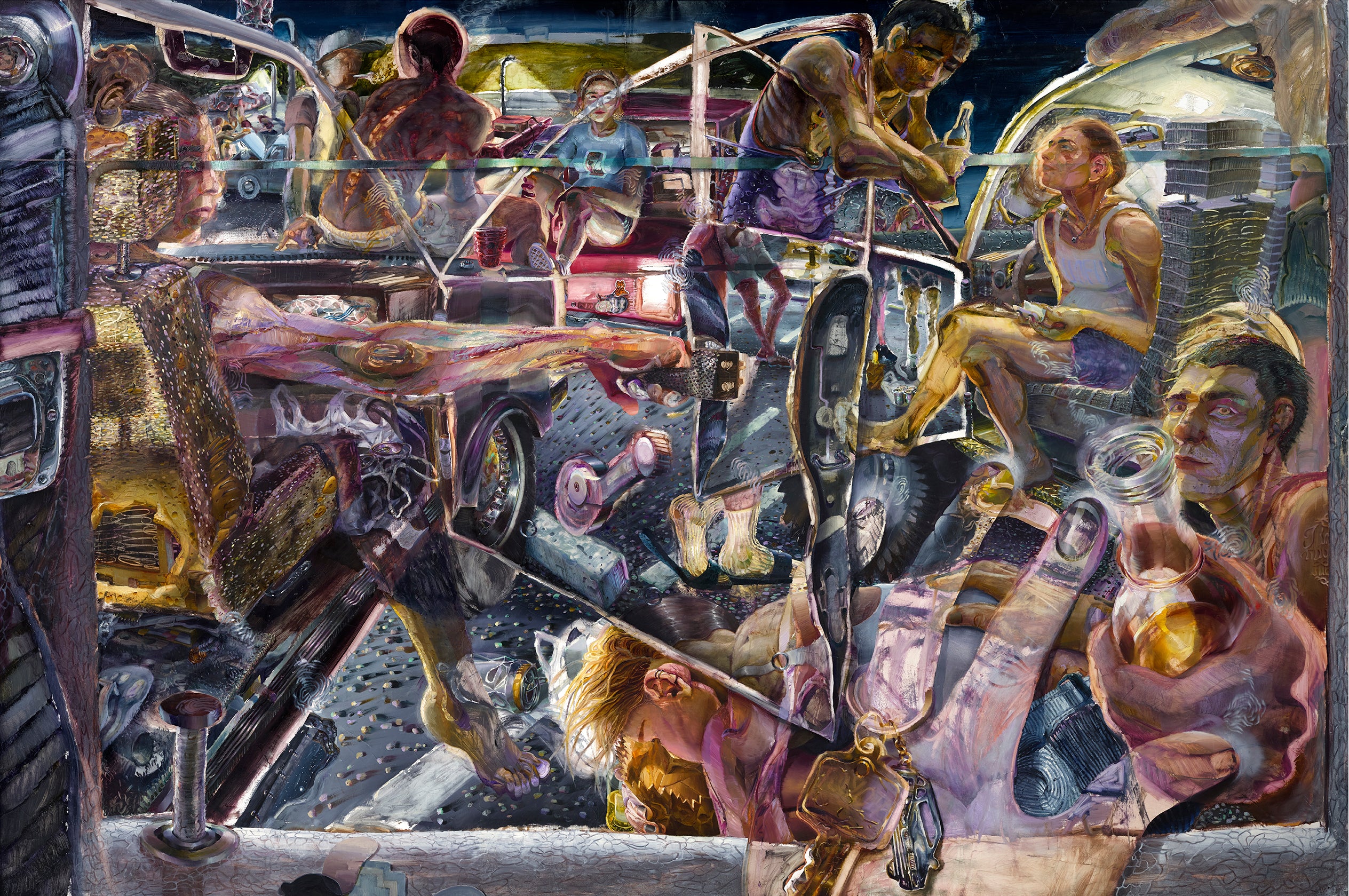 Danica Lundy, Spark up, gas down, 2021
One can see this in the visually dense Spark up, gas down from 2021. The massive 8 x 12 foot work exemplifies Lundy's thesis of the chaos of youth as collective middle-class experience. The viewer enters the visual field of the painting at the bottom right of the frame where a party guest offers the viewer's transparent hand a long-neck bottle. Roughly nine figures in the scene drift in and out of cars. Pink and yellow flesh merges with silver and blue auto body parts.
Lundy doesn't romanticize youth or car culture. Far from it. Her scenes are riddled with grime and anxiety. The figures' desperate socializing is betrayed by their churning stomachs and tense limbs. Lundy literally shows her subjects' emotional states by displaying their roiling guts. This tactic stops the viewer short in Peggy cries softly from 2021, an under-the-floorboards look at two girls in a bathroom riding out the effects of over-ambitious drinking.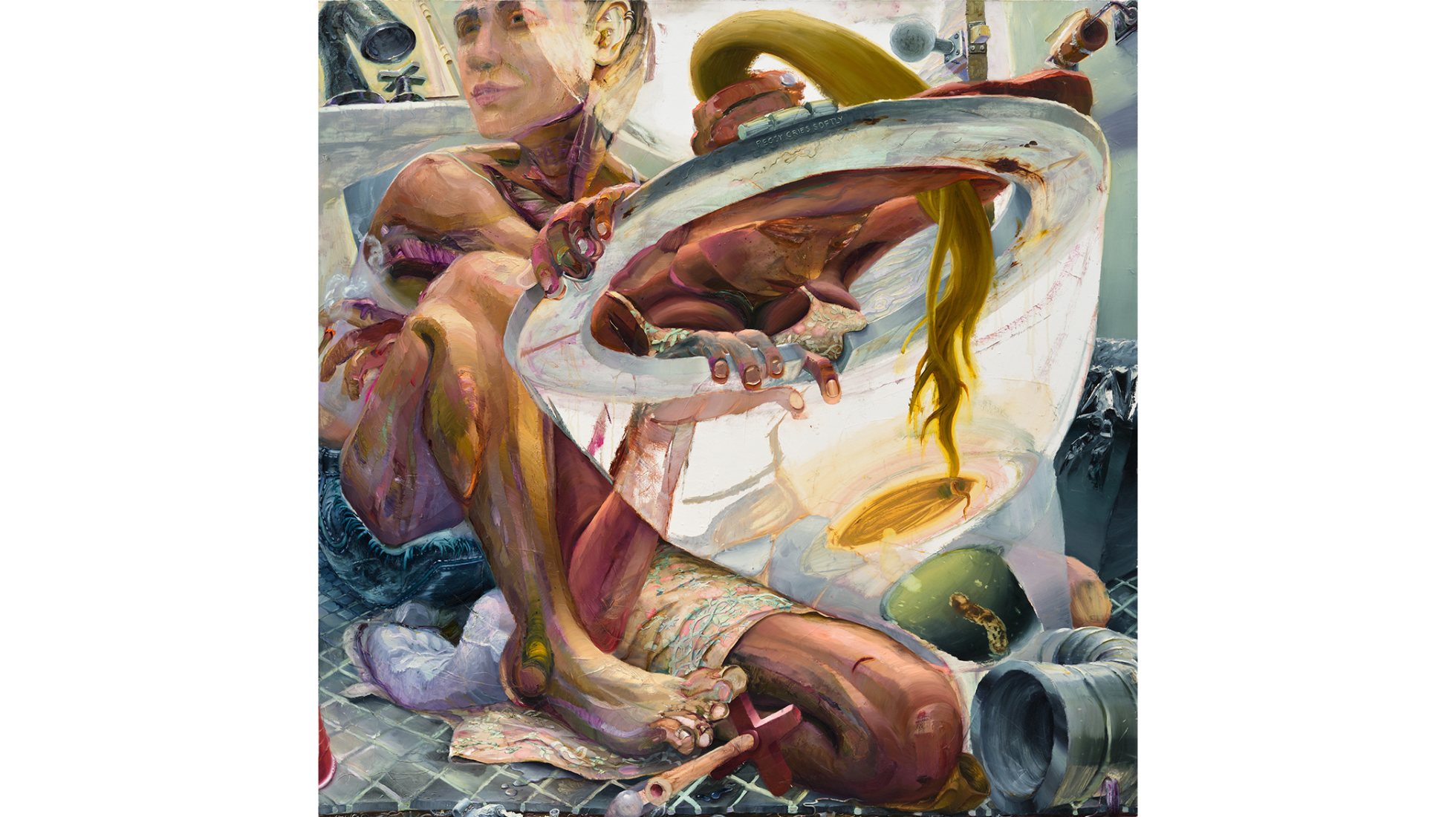 Danica Lundy, Peggy cries softly, 2021
The scene is nearly universal in its shared experience of adolescence, but Lundy is able to infuse her painting with more pathos than nostalgia. She does this through her use of a semi-transparent toilet bowl which merges the figures and the plumbing into a single tangled form. A tolerant friend accepts a joint from out of frame, which distracts her from the task of holding her friend's blonde ponytail out of the toilet. Failing at her task, the drunk friend's golden hair floats languidly toward the sewer. Acrid colors, claustrophobic space, and entwined limbs give the scene uncanny verisimilitude.
Lundy does not want you to read these images as autobiographical—or, at least, not only autobiographical. "I can tell they come from the part of me that holds all the shit that happened as a teenager," she says, hoping the message that comes across is more universal and cultural. "But there's wider content—pop culture, cinematic references—incorporated into the 'skin' of the paintings."