NFT
What Will the Luxury Metaverse Look Like?
Hints from Christie's fifth Art & Tech conference
Christie's fifth Art & Tech Summit held this week at the auction house's New York headquarters featured crypto-luminaries like ConsenSys CEO Joe Lubin and Galaxy Digital's Mike Novogratz, a sponsor of the conference. The two-day event presented a wide range of artists and entrepreneurs working at the intersection of art and blockchain technology.
Three investors, James Wu, Principal at Microsoft Ventures, Sam Englebardt of Galaxy Interactive and Sam Campbell who works invests for Samsung, whose job it is to at least have a thesis for the future, saw the potential for NFTs to be adopted across a wide range of applications where their sheer prevalence and volume would make them ubiquitous.
Erick Calderon, the CEO of Artblocks and creator of the Chromie Squiggle generative art project, followed up with his own take. For Calderon, the story of 2021 was the infatuation with a new technology which drove speculation. In 2022, the value switched to the quality of the art.
That wasn't Calderon's only surprise. During a panel with gallerist and collector Adam Lindemann and artist Mad Dog Jones, all three found their way toward acknowledging the role—and value—that galleries can provide to artists. With a technology born of—and still advocating—disintermediation, this conclusion was … unexpected.
Throughout the event, which featured a dinner at the Met's Temple of Dendur hosted by Galaxy Digital, overlapping technological trends and emerging use cases were discussed. Joe Lubin began the event in conversation with Time's Keith Grossman. The big news there was the imminent—September was strongly hinted—Ethereum merge which will migrate the crypto-currency from a proof-of-work verification system to the more energy efficient and secure proof of stake. Lubin observed that there is likely to be a melt-up in the value of Eth over the next few weeks.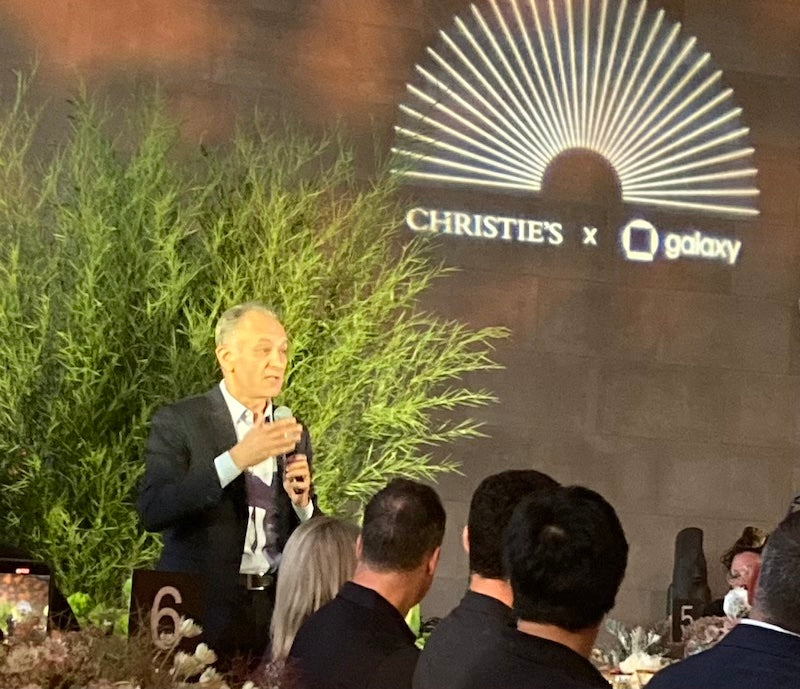 Guillaume Cerutti speaks at the Met's Temple of Dendur
Congressman Jim Himes and former Assistant US Attorney Ari Redbord talked through the crypto industry's embrace of regulation.
Novogratz underscored the importance of Ethereum's merge before suggesting that crypto-currencies would somehow breakup a wide a range of societal logjams starting with intergenerational frustration with the baby boomer generation's unwillingness to cede political power to the uneven distribution of wealth along ethnic lines and identities.
Identity played an important role in Sam Englebardt's vision of how we might conceive of the much-talked about Metaverse. For Englebardt, our multiple social identities will be managed through digital identities as we move through and make connections in physical spaces. This conception of the metaverse as graph to manage all of our code-switching identities and overlay them on the physical world is a novel, refreshing and more actionable alternative to the idea human beings will live in immersive digital experiences that replicate real world ones.
The industry that seems to be leading in this space, at least judging from the conversations that took place on Christie's stage, is the fashion and collectibles world. Christie's head of marketing for the Americas, Neda Whitney, led a panel of Vaness Barboni-Hallik, founder of Another Tomorrow, Gregory Boutte, Chief Client and Digital Officer at Kering and Steven Vasilev, co-founder of RTFKT. Here the panelists explored the two-sided symmetry of digital luxury assets and their real-world corollaries.
What quickly became apparent in these discussions was that the metaverse has as much potential to emerge as a graph of social lives through physical objects. Just as social media has allowed users to make new friends in virtual space but also keep in touch with long lost schoolmates and family members, the metaverse extends that concept into valuable objects. Luxury goods can be bought virtually and redeemed physically while also enabling a secondary market in those goods. In that sense, the luxury business is extending the lessons of the art market into other culturally significant objects but adding the extra dimension of a digital record. Kering, Another World and RTFKT (now owned by Nike) apply these lessons in very different ways but the common theme is the duality of digital assets and physical assets. There are many lessons for artists and galleries here.
The conference coincided with the launch of Christie's new venture fund headed by Devang Thakkar, a former Microsoft product lead, who also organized the event. Christie's Ventures will invest in companies that "enable seamless consumption of art," as well as art-related financial products and other Web3.0 innovations. The fund's first investment is in a company that facilitates cross-chain interoperability. In plain English, LayerZero Labs makes it easier for owners of blockchain assets to move them between the different blockchains.